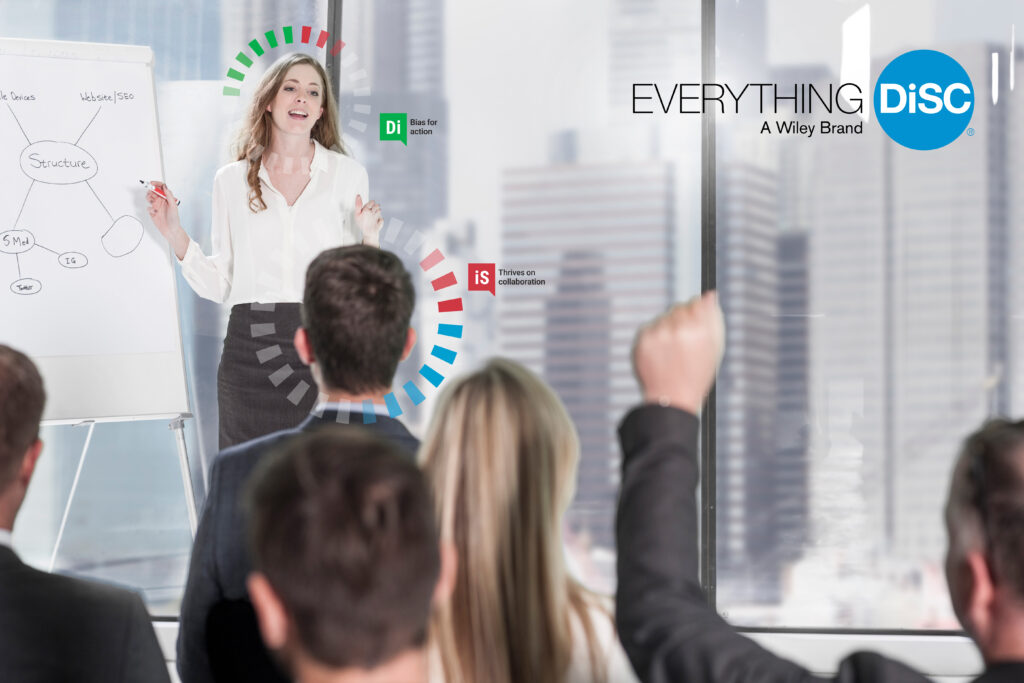 The effects of COVID-19 have shifted from momentary disruption to long-term impact. For many organizations, what was once an engaged, collaborative culture is starting to emerge as a discouraged, disconnected, and distracted remote workforce. But why?
The uncertainty of this new—mostly virtual—working environment is demanding people to stretch in unforeseen ways.
The reality is, working from home just isn't the same as being together in the office, and the authentic human connections that drove your engaged, collaborative culture aren't translating smoothly in this new, virtual environment. As a result, leaders around the world are faced with a new and complex challenge: How do you enhance your workforce's ability to engage, collaborate, and adapt in this very fluid reality?
In other words, how do you shape your virtual culture in a way that brings out the best in your people?

Introducing Everything DiSC®on Catalyst™
Everything DiSC on Catalyst is a personal development learning experience that equips people with the social and emotional know-how for more effective interactions at work—no matter who or where they are.
By combining a proven solution with instructor-led training and a powerful learning platform, Everything DiSC on Catalyst helps people:
Better understand themselves
Appreciate and value difference in perspective and approach
Readily and consistently adapt to the unique needs of each person or situation they encounter
The result is lasting impact. For your learners, Everything DiSC on Catalyst makes the hard work of lasting behavior change possible…even fun. For your organization, Everything DiSC on Catalyst helps foster an engaged, collaborative, and adaptive culture that drives results.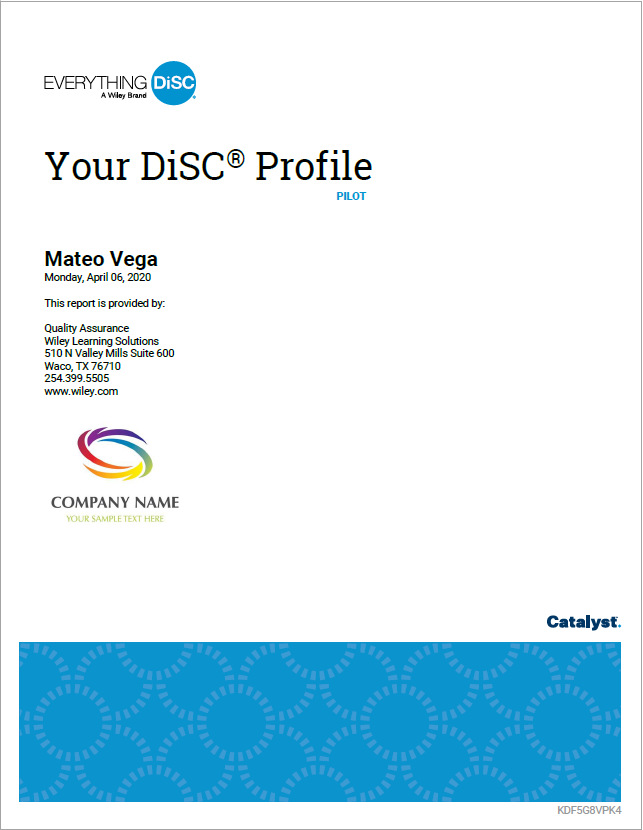 The Everything DiSC on Catalyst Assessment
Each learner starts their Everything DiSC on Catalyst experience with an assessment that includes the DiSC basic questions, along with Workplace, Agile EQ, Management, and Productive Conflict application questions.
As the original DiSC provider with over 40 years of expertise, Everything DiSC offers a proven, scientifically validated assessment with a 90%+ accuracy rating from learners worldwide. Learners respond to behavioral statements on a five-point scale to measure their preferences and tendencies based on the DiSC model—a simple, yet powerful model that describes four basic behavioral styles: D (Dominance), i (influence), S (Steadiness), and C (Conscientiousness).
The results of the assessment are translated into a proven solution that actively develops those hard-to-learn social and emotional skills—all through the lens of each learner's unique DiSC style.
The Everything DiSC on Catalyst Experience
Each Everything DiSC on Catalyst learning experience starts with our best-selling Everything DiSC Workplace application. From there, learners can continue their DiSC journey with Agile EQ—and stay tuned for more applications of DiSC coming in the future!
Base Experience: Everything DiSC Workplace®: Everything DiSC Workplace on Catalyst takes the best-selling Everything DiSC Workplace experience to the next level. Designed to engage everyone in building more effective relationships at work, Workplace on Catalyst helps people adapt to others in real-time. With this base experience, participants will:

Discover their DiSC® style
Deepen understanding of self and others
Learn how to build better relationships with others
Access real-time tips for more effective interactions with their colleagues
Build the foundation for future social and emotional skills training

Add-On Experience: Everything DiSC® Agile EQ™: Everything DiSC Agile EQ develops the emotional intelligence necessary to support what organizations need most right now—a thriving, agile culture. By combining the personalized insights of DiSC with active emotional intelligence development, participants learn to read the emotional and interpersonal needs of a situation and respond accordingly. Agile EQ participants will:

Discover the instinctive mindsets that shape their responses and interactions
Recognize opportunities to stretch beyond what comes naturally to them
Take action to become more agile in their approach to social and emotional situations

More coming to Catalyst: Workplace and Agile EQ are just the beginning. Our future vision is to migrate and create more applications of DiSC to Catalyst. Whether it's learning to transform conflict or manage with impact, you will be able to continue adding value to your clients and learners over time using Everything DiSC on Catalyst.
Learner Pricing Table
New Learner
Past DiSC Learner
Workplace on Catalyst (Base experience)
15 Credits
FREE UPGRADE
Agile EQ on Catalyst (Add-on experience)
+10 Credits
+10 Credits

FREE UPGRADE*For Past Agile EQ Learners
*Free upgrade available for Everything DiSC Workplace, Everything DiSC Management, Everything DiSC Productive Conflict, Everything DiSC Agile EQ, Everything DiSC Sales, Everything DiSC Work of Leaders®, Everything DiSC 363® for Leaders, and DiSC Classic (electronic profiles only). This upgrade is available for English profiles only. To gain access to this free upgrade, use existing data in EPIC.
**The Agile EQ on Catalyst add-on requires the Workplace on Catalyst base experience. This means that in order to experience Agile EQ on the Catalyst platform, the total investment will be 25 credits for a new learner (10 credits for a past DiSC learner) and will also include Workplace content.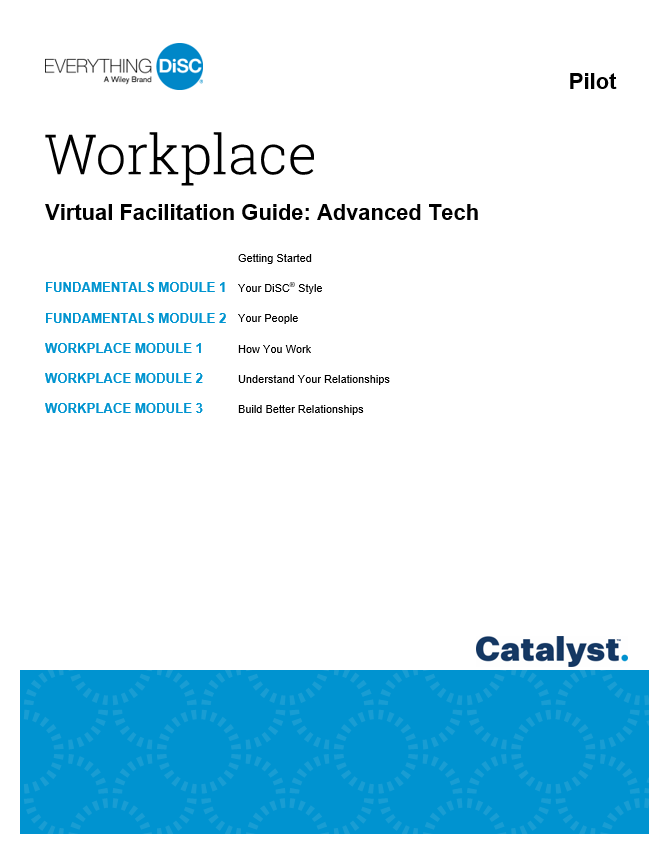 Everything DiSC on Catalyst Facilitation Kit
The Everything DiSC on Catalyst Kit is launching in November 2020. Below is an overview for your reference.
The Everything DiSC on Catalyst Facilitation Kit offers facilitators a new dimension of support. It uses a short-format, modular design and includes virtual and in-person facilitation options to ensure facilitators can create a customized experience that meets the unique needs of any client.
This Everything DiSC® on Catalyst™ Facilitation Kit includes:
Classroom Facilitation Guides for Fundamentals, Workplace, and Agile EQ modules in MS Word (customizable)
Virtual Facilitation Guides for Fundamentals, Workplace, and Agile EQ modules in Microsoft Word (customizable)
PowerPoint® decks for each classroom and virtual module (customizable)
Participant handouts for classroom and virtual sessions
Program Guide for planning your session
Access to online research and resources, including sample reports, posters, templates, and other detailed product information
Module Descriptions and Estimated Times
Everything DiSC Workplace on Catalyst:

Fundamentals Module 1 (60 minutes classroom/65 minutes virtual): Your DiSC® Style: Participants walk through the framework of the DiSC® model and review the Everything DiSC map. They learn about their DiSC styles, then discover and discuss personalized insights.

Fundamentals Module 2 (30 minutes classroom/20 minutes virtual): Your Colleagues: Participants learn about one another on the Catalyst platform. Working in pairs, participants look each other up on the "Your Colleagues" page. They discuss the impact of their continua results on their relationships and find new ways to work together.

Workplace Module 1 (75 minutes classroom/70 minutes virtual): What Drives You: Participants discover their workplace priorities, as well as their motivators and stressors. They see how they compare to people with other styles and consider ways to be more effective at work.

Workplace Module 2 (75 minutes classroom/60 minutes virtual): You and Other Styles
Participants use the DiSC model to better understand the people they work with through video and discussion. They consider how they react to the different DiSC styles and gain insight into their relationship with a colleague based on that person's DiSC style.

Workplace Module 3 (60 minutes classroom/55 minutes virtual): Build Better Relationships Participants learn how others have bridged their differences using DiSC. To practice building more effective relationships at work, they review tips for working with one colleague based on their DiSC style, and then discuss ways to improve relationships with people of all styles.

Everything DiSC Agile EQ on Catalyst

Agile EQ Module 1 (45 minutes classroom/40 minutes virtual): Your EQ Strengths Participants discover their unique emotional intelligence strengths and the core needs that drive them, and consider how to use their strengths in new ways.

Agile EQ Module 2 (95 minutes classroom/100 minutes virtual): Beyond Your Comfort Zone Participants learn about the full range of Agile EQ mindsets available to them and why it's important to stretch beyond their comfort zones to be more agile in how they handle different challenges. They use a combination of personalized insights, video and discussion to consider new ways of responding to complex social and emotional situations.

Agile EQ Module 3 (60 minutes classroom/60 minutes virtual): Develop Your EQ Participants take steps to develop their emotional intelligence by exploring anticipated difficulties in stretching to new mindsets, choosing a mindset to work on, and creating an action plan for becoming more agile.
Contact us to see if this program would work for your organization. We can answer questions about the options available with the program and how it could be customized to meet your needs.