Introducing Everything DiSC Workplace® on the all-new Catalyst™ platform!
Everything DiSC Workplace® on Catalyst™ takes the best-selling Everything DiSC Workplace® experience to the next level. Designed to engage everyone in building more effective relationships at work, Workplace on Catalyst helps people adapt to others in real-time, unlocking engagement and inspiring more effective collaboration. By combining the Everything DiSC® assessment, Catalyst platform, and instructor-led facilitation, participants will:
Discover their DiSC® style
Deepen understanding of self and others
Learn how to build better relationships with others
Access real-time tips for more effective interactions with their colleagues
Build the foundation for future social and emotional skills training
With the guidance of an Everything DiSC Authorized Partner, Workplace on Catalyst inspires a more engaged, collaborative culture that improves the overall quality of the workplace.
Program Components
By connecting the Everything DiSC assessment, Catalyst platform, and instructor-led facilitation, Everything DiSC Workplace on Catalyst delivers transformational learning that has an immediate and lasting impact on an organization's performance and culture. The components of the learning experience include:
The Everything DiSC Assessment
Powered and proven by 40+ years of research
Uses computer adaptive testing and sophisticated algorithms for precise results
Builds the foundation for an ongoing personalized learning experience
Catalyst—A personalized, on-demand learning experience platform
Delivers the narrative-style results of the Everything DiSC assessment
Allows learners to go deeper into their DiSC® style and develop new skills
Offers real-time tips for more effective interactions with a learner's colleagues
Enhances the facilitation and independent learning as a single access point throughout the learner's DiSC journey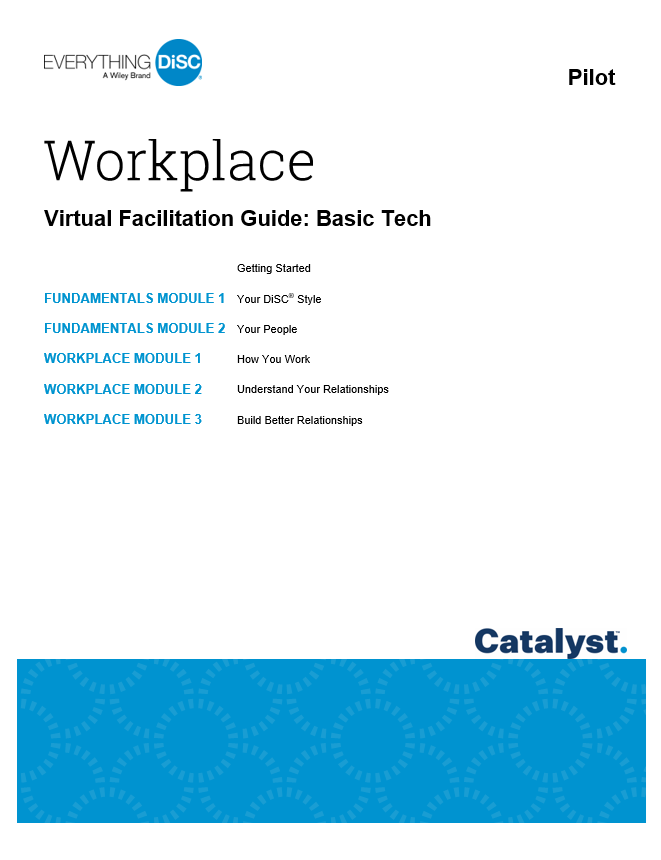 Workplace on Catalyst Guided Facilitation
Instructor-led experience that engages and educates
Virtual training modules using scripted content, contemporary video, and activities (in-person training modules coming later in 2020)
Short-format, modular design that is easily tailored to any group size or time constraint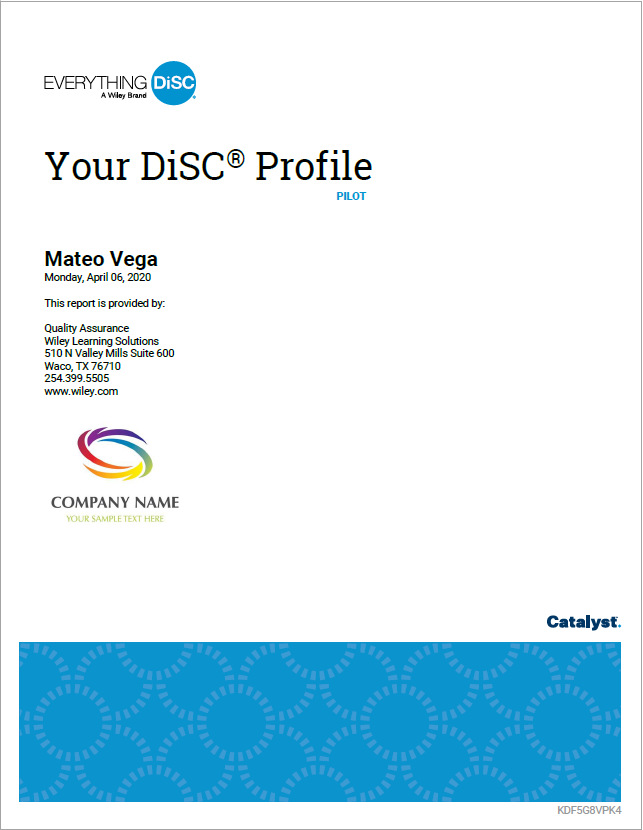 Your DiSC Profile Report
A 23-page PDF report—available for download on the Catalyst platform or EPIC
Houses a learner's DiSC style, insights into self and others, and actionable strategies for building better relationships
Modular design to coincide with the short-format, interchangeable topics within the guided facilitation
The Catalyst Platform
Catalyst™ is an engaging learning platform that helps organizations shape their culture by equipping people with the social and emotional skills needed for more effective interactions at work. For use in a virtual facilitation and on-demand, Catalyst integrates DiSC into the flow of work, making the hard work of lasting behavior change possible and enjoyable. With Catalyst, learners will:
Take the proprietary Everything DiSC personality assessment
Discover their DiSC style and deepen their self-understanding
Compare results with colleagues and gain tips for more effective interactions in real time
Access social and emotional skills training content—personalized to their unique DiSC style
Guided by an Everything DiSC Authorized Partner, Catalyst creates meaningful culture change that empowers people to engage, connect and thrive at work.
Virtual Facilitation Kit Contents
The Everything DiSC Workplace on Catalyst Virtual Facilitation Toolkit is an extension of the Everything DiSC Workplace Facilitation Toolkit. This Virtual Facilitation Toolkit includes:
Advanced Tech Facilitation Guide in MS Word (customizable)
Basic Tech Facilitation Guide in MS Word (customizable)
PowerPoint® decks for each module (customizable)
Participant Action Plan fillable PDF handout
Sample Everything DiSC on Catalyst Profile
Access to online resources and research
Fundamentals Module 1 (65 minutes): Your DiSC Style: Participants walk through the framework of the DiSC model and the Everything DiSC map. They learn about their DiSC styles, then discover and discuss personalized insights.
Fundamentals Module 2 (20 minutes): Your People: Participants learn about one another on the Catalyst platform. Working in pairs, participants look each other up on the People page. They discuss the impact of their continua results on their relationships and find new ways to work together.
Workplace Module 1 (70 minutes): How You Work: Participants discover their workplace priorities, as well as their motivators and stressors. They see how they compare to people with other styles and consider ways to be more effective at work.
Workplace Module 2 (60 minutes): Understand Your Relationships: Participants use the DiSC model to better understand the people they work with through video and discussion. They consider how they react to the different DiSC styles and gain insight into their relationship with a colleague based on that person's DiSC style.
Workplace Module 3 (55 minutes): Build Better Relationships: Participants learn how others have bridged their differences using DiSC. To practice building more effective relationships at work, they consider tips for working with one colleague based on their DiSC style, and then discuss ways to improve relationships with people of all styles.