I believe that how we interact with others in the workplace, our relationships, is an important factor in achieving success. In our personal lives, I also believe it is an important factor in determining our happiness.
I have spoken to over 30,000 people in my career and have been a member of the National Speakers Association for more than 20 years. I help leaders improve their relationship-oriented skills and help teams work better together. You can out more about my experience and values in this interview.
I am available for speaking to fortune 500 corporations, government organizations, universities and colleges. I am also available for coaching and consulting to those in management and leadership positions. You can find out more about my speaking style from this clip from a keynote that I delivered.
Here are topics you may choose from for your next speaking event:
Balancing SMART with HEART: Why Real Leaders Need Both

The 80/20 Rule of Relationship Marketing

The Power of Positivity

DiSCovering Your Style: Leading Naturally

7 Elements of Relational Leadership

The Fortune is in the Follow Up: How to Build Strong Relationships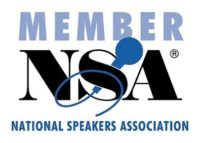 Paula's one sheet is HERE.