Virtual Teams Everywhere Are Being Challenged.
Now there's a new solution.
In order to adapt to the needs of today, we have developed a new Five Behaviors learning experience that can be completed virtually. The Five Behaviors for Virtual Teams is modular so that it can be completed in a single online session or in multiple online sessions. Currently it covers the Trust and Conflict components of the The Five Behaviors model. It will be expanded to cover Commitment, Accountability, and Results at a later date.
Check out what Paula R, a recent attendee of our virtual training session, had to say about her online experience!
"You did an exceptional job facilitating in a virtual setting. It can be difficult for even the most seasoned professionals and you have definitely mastered the new reality of facilitation." – Paula R.
Who Is The Five Behaviors for Virtual Teams Intended for?
For anyone who collaborates virtually.
Suitable for a non-intact team.
The experience is enriched if a team experiences it together.
Works as an introductory experience to The Five Behaviors or as a follow-up to other Five Behaviors training.
The experience is broken down into three parts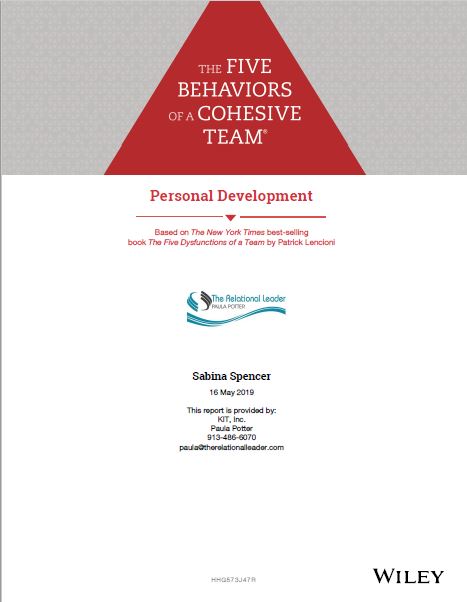 1. The Assessment
Each participant will start by completing the Five Behaviors Personal Development assessment to better understand their strengths and challenges within the Five Behaviors model for teamwork.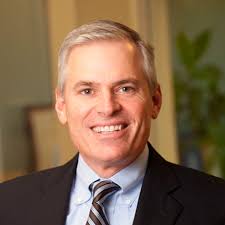 2. Exclusive Virtual Event with Patrick Lencioni
Tune into "The Five Behaviors for Virtual Teams," an exclusive virtual event featuring The Five Dysfunctions of a Team best-selling author Patrick Lencioni, to hear his unique insights on the challenges teams are currently facing, and the behaviors needed to work together effectively. To qualify to attend the event, you must have purchased a Personal Development Assessment.
Save the Date!
November 10, 2020
11a.m. to 12 p.m. Central Time
Can't make the session on November 10? Join us on-demand November 11–December 4, 2020. By registering for the on-demand option, you will receive a link to the event recording on November 11 that will be available any time until December 4.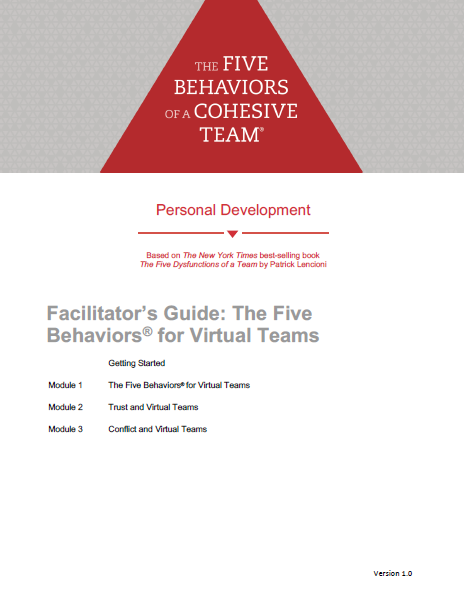 3. Virtual Training
After the virtual event, a customised Five Behaviors Personal Development follow-up training with Paula Potter will bring the learning experience full circle. This is a 90 minute, instructor-led virtual workshop.
Save the Date!
November 17, 2020
11a.m. to 12:30 p.m. Central Time
Note: Even if you can't attend parts 2 and/or 3 above LIVE, you will have access to the recordings for a period of time after the events.
The assessment, virtual event and virtual training are all available to you for a single payment of $129. This training experience provides a compelling learning experience that addresses the current reality/need: to help learners collaborate virtually.
You can leverage The Five Behaviors® to strengthen and support your teams—no matter where they are.